When I was taking stock of my sewn wardrobe (which is very easy to do when you're packing it all up!), I noticed I have quite a few separates. In the last year I've made three skirts and 1 pair of trousers (with more trousers on the way). However, I only have two vintage blouses I've made (and a dickey)! My normal ready to wear wardrobe is the opposite. I have very few trousers (all in classic colors) and TONS of blouses and tops for both work and after work occasions.
Here's some photos of some of the separates I already have:
I wanted a super fun way to add blouses to my wardrobe and had been chatting about a sewing challenge for the New Year with Sarah from
Rhinestones and Telephones
. We will be co-hosting the
Sewing through the Decades
Challenge
. I am going to sew up a blouse from each year of 1931-1949. Yup, that's 20 blouses—each from their own specific year! Plus, I am planning a bunch of bonus blouses as well (hello Pendrell pattern!). By the end of this challenge, I will have an almost complete wardrobe of separates!
Why don't you join along? This isn't a sew-along (as there are a lot of great sew-alongs happening at the moment), so you can do your own thing. You can go as fast or as slow as you want (no deadlines). And you can sew however many things you want. The basic thought is to challenge yourself to explore different time periods (which can be three years in one decade—1943, 1944, 1945) or several patterns across several decades (50's, 60's, 70's). You can sew blouses, skirts, dresses, trousers…whatever you want! It will be fun to share our experiences in sewing from different time periods. The patterns can span both vintage and modern years.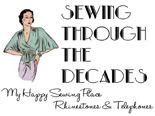 Check out the photos on the
Sewing Through the Decades Challenge flickr group
(and post your photos!)
I'm going to be tying my sewing through the decades challenge along with my sew weekly posts as much as I can. I'm also going to try and experiment with lots of different types of fabrics.
Here are a few of the patterns I'm planning on making as part of the Sewing Through the Decades Challenge.
This amazing tunic blouse (view B) from 1933 from the Vintage Pattern Lending Library:
For Valentine's Day, I'm planning to make this 1934 Wearing History repro pattern into separates (blouse and skirt):
The blouses I have chosen from the 30's will definitely be more time intensive...but the details, oh the details of the outfits from then! LOVE them!
For the 1940's I am making this beauty (the short hooded verion) from the year 1940:
And this classic blouse from the year 1944:
And for a bonus blouse I am going to make the Pendrell Pattern from the Sewaholic pattern line:
Ohhhh, I am so excited! I am really excited to explore all the different years and to come up with some great separate pieces for my sewn wardrobe!